What is Laser Therapy?
The Diolase 10 delivers 10,000 milli-watts of power to penetrate deep into the injured tissue to decrease inflammation and promote healing. The goal of laser therapy is to deliver light energy called photons into the damaged cells. The photo-ionic energy is absorbed by the cell's mitochondria to accelerate production of ATP. The biochemical increase in cell energy is used to transform live cells from a state of illness to a stable, healthy state.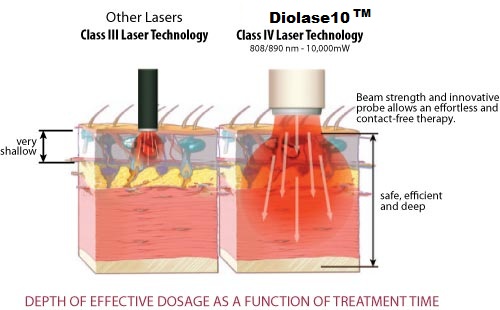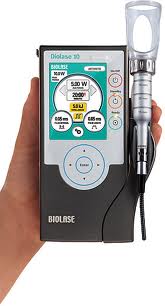 The Class IV laser, approved by the FDA in 2006, packs a punch while remaining, like its cold laser cousin, non-invasive. Used to treat the same conditions as the cold laser, the Class IV is capable of reaching depths of 6 to 9 inches, with a treatment beam of up to 3 inches.
What conditions are treated?
Worldwide, laser therapy has been embraced to provide accelerated pain relief and healing. For over 20 years, clinicians found that laser therapy treats a variety of conditions including:
| | |
| --- | --- |
| | Osgood Schlatters Disease |
Biolase and Sveningson Sports Chiropractic are pleased to provide the most advanced technology on the market. The Diolase 10 High Intensity Laser Therapy device is FDA approved, easy to deliver therapy and extremely effective.
How does it work?
Because the Class IV laser reaches deep into the tissues, it is ideal for treating sprains and strains, arthritis, calcified muscles and fibrotic adhesions, as well as intra-articular tissues inside of the joints. Its far-reaching capabilities also allow the Class IV to achieve results in less time than a cold laser. With treatment times of as little as 5 to 15 minutes, the Class IV laser allows many conditions to vastly improve within a few visits. Oftentimes, patients find immediate, soothing relief that improves with each session.